Prestige Student Living announces new property in the historic city of Coventry. The Residence, which opens September 2019 is in a great location for students in the city.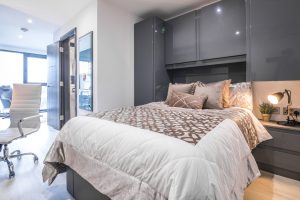 The property has a wide variety of stylish and modern rooms, ranging from premium to deluxe balcony studios. Each studio boasts a large bed, sufficient study space with desk and chair, cooker, microwave, freezer and personal shower room.
Students who stay at The Residence will benefit from ultra-fast Wi-Fi, parcel collection and storage, on-site Launderette parking for students that drive, and high security for students and their belongings. Residents will enjoy everything The Residence has to offer, with a communal dining room, on-site gym, cinema and games lounge and fantastic student experience events.
Commuting to university wouldn't be an issue for students, as Coventry University is a short 15 minute walk and 35 minutes by public transport to get to the University of Warwick, ultimately making this property one of the top choices for student living in Coventry.
Prestige Student Living is the premium brand of one of the UK's Leading providers of student accommodation, Homes for Students, offering luxury living in all of their properties.
For more information on this stunning new student accommodation in Coventry, visit The Residence.