Members of our team at Homes for Students marched with Liverpool Pride and celebrated the diversity of the LGBTQI+ community at our first company Pride event.
This year's addition marks 50 years since the first Pride protest in the UK in 1972, and it was the first time in three years that the event could take place in-person due to the coronavirus restrictions in previous years.  
Joining up with Pride is something that is very important to us as a company as we want to support both our LGBTQI+ students and our colleagues too. Members of our team joined 12,000 others and came together as a community by promoting acceptance and equality for all.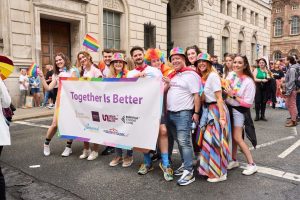 About Pride Festival
Pride Festival is a set of annual LGBTQI+ events that celebrate gender and sexual diversity which take place across the UK mostly during July, which is International Pride Month. The first Pride event in the UK was held in London in protest of the Stonewall riots, which took place in June 1969 after a police raid at the Stonewall Inn, a gay bar in Greenwich Village, New York. 
Pride looks to honour the LGBTQI+ community's fight for equal rights across history, whilst also celebrating those who identify as lesbian, gay, bisexual, transgender, and questioning individuals.  
Liverpool Pride History
Events like London Pride take place during Pride Month in July, however, Liverpool Pride takes place annually in the first weekend of August every year in memory of the death of Michael Causer. Michael was a young man who identified by gay and was tragically murdered in Liverpool in 2008 in a homophobic attack.  
Every year, Liverpool Pride takes place as close as possible to the anniversary of his death, on August 2nd. To find out more about Michael's story you can head to the Michael Causer Foundation which is a charity set up by his parents that supports young LGBTQI+ individuals within Merseyside.  
Since the first official Pride event in Liverpool on 7th August 2010 the event has grew hugely with this year marking its 12th year of recognising the values and influence of the LGBTQI+ community. The event shines a light on issues that individuals within the community face and is a time to stand up in solidarity against injustices and discrimination towards the LGBTQI+ community.  
Liverpool Pride 2022 
Liverpool's annual Pride event is organised by the LCR Pride Foundation with this year's theme being 'Come Together'. The theme signifies returning to in-person events and coming together again but also showcases the importance of community spirit and standing up against mistreatment within the LGBTQI+ community.  
In 2021, the city of Liverpool saw a significant rise of incidents of homophobic and transphobic attacks. Which is why this years 'March With Pride' protest spreads such a powerful message, that hate crime or mistreatment towards the LGBTQI+ community will not be tolerated. The event showcases how the community, and its allies is against discrimination and looks to promote equality and celebrate individuality.  
Members of our team took part in the annual March with Pride parade which began at St George's Plateau and ended at the Pier Head, on Liverpool's Waterfront. It was then followed by a free event presented by Barclays.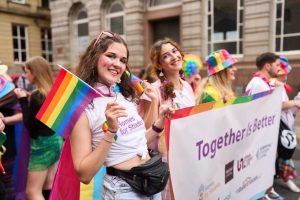 Why Is This Important?
At Homes for Students, we aim to promote a diverse, inclusive and accepting environment across the board within our properties and in our workplaces to ensure that the LGBTQI+ community feel safe, secure and free to be who they are.  
As a company we have now joined The Safe Space Alliance with all our student accommodation properties being recognised as safe spaces both on the directory and on Google. A safe space is a space where LGBTQI+ communities can freely express themselves without fear or judgement. Find out more about this here.  
As a company at Homes for Students, we understand the importance of promoting a culture of equality and diversity, which is why in June of 2021 we set up 'Together is Better'. This group brings together those looking to share their experiences and aims to ensure inclusivity is implemented in all aspects of our business from supporting leadership, colleagues, and residents.  
Lee Sullivan, Payroll and Reward Manager at Homes for Students, has said:  "We are a company-wide group looking to share experiences, develop best practice and support our leadership, colleagues, and residents. We welcome input from across all teams and roles, an approach which means that all voices are listened to. In just 12 months, Together is Better has taken some really positive steps towards creating true equality, diversity and inclusion at Homes for Students. 2022 will see us continue our focus of tackling inequality head on". 
In addition, members of the Homes for Students team will also be marching at Birmingham Pride on the 24th September.