Over the last twelve months Homes for Students colleagues from across the UK came together and took part in a range of community activities to help raise funds, support local people and bolster team spirit.  Alongside the traditional bake sales, tombola's, bingo and quizzes, they embraced climbing mountains, helping local foodbanks, donating used items to charity shops, and created food hampers for families in need at Christmas time.
One of our core values is being a force for good and at Homes for Students we're proud to be a thoughtful and caring team.  Our people across the UK and Ireland have a strong tradition of supporting both local and national charities and 2022 proved to be our best fund-raising year to date!
We're happy to announce that overall, we raised a grand total of £106,233.  We couldn't be prouder of our colleagues and their determination to make a valuable contribution, supporting those in need and helping various causes across the country.
There are so many examples of when our colleagues and students strived to be a 'force for good', seizing every opportunity to raise as much money as possible for charity, and here are our top three highlights of 2022;
The 'Pack For Good' campaign for the British Heart Foundation
Last year, Homes for Students partnered with The British Heart Foundation's (BHF) annual "pack for good" campaign which ensures its shops and stores receive a much-needed regular supply of donations throughout the year. Our objective was to ensure pre-loved but sellable items donated by students were given a new lease of life in BHF charity shops, the chance of a new home and didn't end up as landfill.
At check-out time the BHF delivered large donation baskets to the properties we manage, and our colleagues facilitated students donations of unwanted items such as clothes, furnishings, tech, and books.  This means that not only were we helping to raise money, we were also preventing any unnecessary waste, potentially ending up in a landfill site.  Together, HFS colleagues and students successfully diverted 628,362kg away from landfill, that's the equivalent of 105 elephants!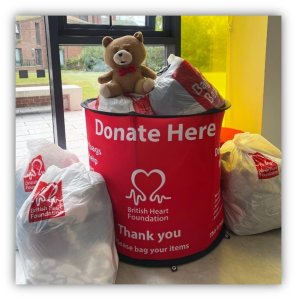 Thanks to all of our property teams and students we are thrilled to confirm our donations raised an impressive £78,570, the highest amount raised by any of the pack for good national partners.  We're proud of this achievement knowing it will support the crucial work the BHF carries out in researching cures and treatments for heart and circulatory diseases.
Kate Forester, Managing Director of HFS said:
"The Pack for Good campaign works well for Homes for Students on so many levels. Our teams love nothing more than organising a good deed to help local charities and were delighted that we partnered with an initiative that could help us do just that. Students were keen to see their pre-loved items reused responsibly, a positive habit which will hopefully stay with them long after they've graduated."
Amanda Purkiss, BHF University Account Manager, said:
"We have been delighted with the response from our National Partnership with Homes for Students and their incredible support. Our shops rely on donations to continue raising money to fund lifesaving research. Thanks to the generous donations from the students and staff across Homes for Students properties we have been able to help our shops UK wide."
2023 will once again see HFS supporting the BHF with this amazing campaign. We look forward to seeing if we can raise even more than last year.
Student Minds Partnership

Student Minds is a mental health support charity providing a 24/7 service to students across the UK, empowering students, and the wider university community to look after their own mental health and support change where needed. Student Minds has been the official charity partner of Homes for Students since 2021 and the partnership continues to blossom.
Throughout the year, our colleagues raised money for Student Minds with lots of creative activities such as a sponsored beard shave, charity car washes, scavenger hunts, raffles, sponsored bike-athons and beauty treatments. Our students (and colleagues!) particularly loved the bake sales!
In early Summer 2022, colleagues from across the Homes for Students teams gathered in Yorkshire to take part in the Yorkshire Three Peaks Challenge, again, all in aid of the student mental health charity, Student Minds.  The challenge sees participants take on the peaks of Pen-y-ghent, Whernside and Ingleborough in around 12 hours, spanning more than 24 miles of rural Yorkshire landscape and over 5,200 ft of mountainous ascent.
Not only did the team enjoy the challenge itself, but their combined efforts also raised an impressive £22,000 and helped keep the spotlight on the charity's important message.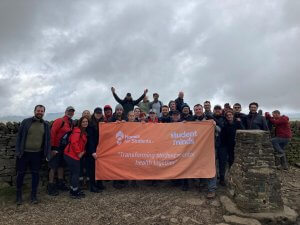 Jon Badge, Operations Director at Homes for Students, said:
"I am thrilled with the amount we handed over to Student Minds last year. Student wellbeing is something we've made a priority at Homes for Students and we are passionate about the excellent work Student Minds does for all young people.  I would like to thank all of the team, our clients and our sponsors who have been so generous with their donations."
Fundraising and Development Manager at Student Minds, Kate Mitchell, said:
"We are so grateful that the team from Homes for Students chose to take on the Yorkshire Three Peaks in support of Student Minds! The fantastic total they have raised will enable us to ensure more students are able to thrive at university.

"What we do wouldn't be possible without the generosity of our supporters – on behalf of everyone at Student Minds, thank you."
We're delighted our 2022 donations will go towards the wonderful work they do.  2023 will see Homes for Students partner with Student Minds for a third year and with the National Three Peaks Challenge planned for June, the team have set their sights even higher for the year ahead.
Christmas volunteering and the food hamper appeal for KIND
Every year since 1975, a Liverpool based charity, KIND, delivers food parcels to those in need at Christmas time. For 2022, the Chief Executive of KIND aimed to deliver 1,500 hampers to struggling children and families across Merseyside and reached out to HFS to ask for volunteers to not only raise money but to help with the three-day production of the food hampers themselves.
Our colleagues rose to the occasion, hosting a fund-raising sweepstakes, bake sales, Christmas bingo and a tombola. Our Liverpool based Central Services colleagues also responded to the call for volunteers by spending two days at a warehouse in the city centre, unloading lorries, making boxes, arranging a production line then filling each box full of essentials, food and festive treats for families.  An incredible 1,500 boxes were delivered to families across Merseyside just two days before Christmas.
Scott Lewis, Senior Director for Sales and Operations for HFS said:
"It was fantastic to be able to play a very small part in the amazing work this charity does, and to spend time with the team who make this happen. 

I'm so proud to be a part of a business who actively encourages this sort of activity and delighted our team got so involved."
In addition to the great work in Liverpool, colleagues across the country raised money and volunteered for local charities.  To name just a few, our colleagues in Aberystwyth volunteered at their local food surplus depot helping to distribute food to households in need and our colleagues in Harrogate for the second year running, delivered a large donation of goods to the Trussell Trust food bank. Our charity match funding programme has also seen us support colleagues running marathons and even grow facial hair!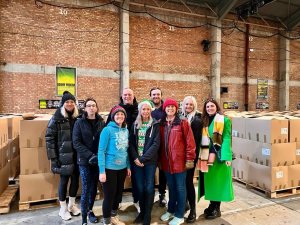 2022 has certainly been a busy and extremely rewarding year.  We're proud of all our colleagues and the students who happily got involved and helped us reach our amazing fund-raising grand total.
_____________________________________________________________________________________________________________________________________________________________________
Homes for Students is the UK & Ireland's largest independent PBSA provider, managing over 39,000 beds across 160 properties in over 52 university towns and cities. Since its establishment in 2015, it now employs nearly 800 people across its properties and two central service offices in Harrogate and Liverpool.