Homes for Students is set to open a new student accommodation situated in Lancaster. The new stylish property is opening this September 2019 and it's within walking distance from both Lancaster University campus and the University of Cumbria Lancaster campus.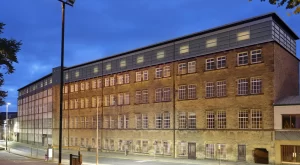 St Leonard's House has a wide selection of modern and unique rooms, ranging from classic to premium en-suites. Each room includes a large bed, personal shower room and a sophisticated study space with a desk & chair.
Students who stay at St Leonard's House will have the access to ultra-fast WI-FI, laundry facilities, onsite gym communal dining room as well as common room.
Students will have the assurance of high security as there is a secure storage area for cyclists and an out of hours key holding service in place, giving parents and students complete peace of mind.
St Leonard's is located in the centre of Lancaster, with a variety amenities close by,  ultimately making the accommodation the perfect choice for students.
Homes for Students, one of the UK's leading student housing management providers, offers a full range of services, including financial, tenancy and facilities management, help-desk and reception, sales and marketing, rent collection, life-cycle and asset management, energy and commercial tenancy management.
For more information on this new student accommodation in Lancaster, visit St Leonard's House