Homes for Students presents a beautiful new accommodation property in Norwich. The recently completed Pablo Fanque House offers high end luxury living for students. This property is located in heart of Norwich, making commuting to university easy for students.
Pablo Fanque House provides a range of modern rooms, from standard en-suites to Premium Studios. Each Room comes with a large bed, study space with Desk and chair, storage space, fitted wardrobes and a personal shower room.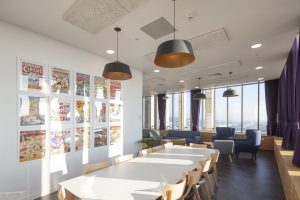 Students who stay at Pablo Fanque House will benefit from Ultra Hi Speed Wi-Fi, laundry facilities, bike storage and a high security service for students and their belongings.
Transport services are available and both the Norwich University of arts and City College Norwich are within walking distance of the property.
Homes for Students, one of the UK's leading student housing management providers, offers a full range of services, including financial, tenancy and total facilities management, help-desk and reception, sales and marketing, rent collection, life-cycle and asset management, energy and commercial tenancy management.
For more details about this new student accommodation in Norwich, visit Pablo Fanque House.