Homes for Students is proud to announce a newly refurbished property, Barker House. Barker House is conveniently located in the heart of Newcastle, which gives students the freedom of exploring as the main shopping and nightlife areas are all close by.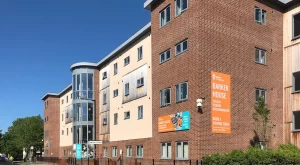 Barker House has a selection of rooms, ranging from classic to premium en-suites. Each room comes with a large bed, ample storage space, study area with desk and chair, and a personal shower room.
Residents who stay at Barker House will benefit from, ultra-fast Wi-Fi, bike storage for cyclists, on-site launderette and high security for students and their belongings. The property also has a new communal area and study room which will be available for students September 2019.
For students, commuting will be an ease, as the Newcastle University, Northumbria University and Newcastle University are all within walking distance of the property.  For Cyclists it's only a 5 minute ride to the Newcastle University and a 4 minute ride to Northumbria University. Transport services are accessible if required.
Homes for Students, one of the UK's leading student housing management providers, offers a full range of services, including financial, tenancy and facilities management, help-desk and reception, sales and marketing, rent collection, life-cycle and asset management, energy and commercial tenancy management.
For more information on our new student accommodation in Newcastle, Barker House