Prestige Student Living, Homes for Students' sister company, has introduced a new student accommodation in Durham.
Home to a range of high-end quality studios, Duresme Court delivers a luxury student experience in a prime location close to the area's amenities and nightlife, and less than 20 minutes' drive from the local universities.
Every room in the brand-new property features a large bed, integrated kitchen, wardrobe, study desk and en-suite bathroom. Contemporary study rooms, communal spaces and games areas are complemented by modern gym facilities, a cookhouse and cinema lounge.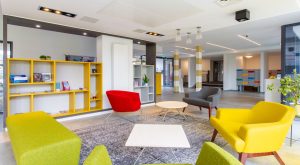 Residents also benefit from car park access, 100mbs Wi-Fi and a private dining area. Local public transport provides convenient links to the city centre.
Prestige Student Living offers a full range of services including financial, tenancy and total facilities management, helpdesk and reception, sales and marketing, rent collection, lifecycle and asset management, energy and commercial tenancy management.
For more information about this new student accommodation in Durham, visit http://prestigestudentliving.com/durham-duresme-court