Prestige Student Living, Homes for Students' sister firm, is bringing a new student accommodation to Glasgow this summer.
Havannah House, which will provide luxury yet affordable student living, is located within walking distance of Strathclyde University. It features elegant studios and en-suite rooms, as well as comfortable social spaces.
All studios come with a large bed and modern, integrated kitchen. Residents can also enjoy communal study and games areas, a cinema room, on-site gym facilities, televisions in the cluster kitchens, vending machines and 100mbs Wi-Fi. Air conditioning is a feature of many of the communal spaces.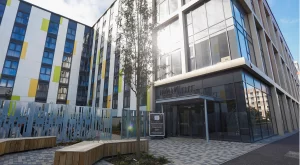 The brand-new Glasgow student flats are home to landscaped gardens which are tailor-made for organised outdoor activities, and a courtyard offering eye-catching views.
As well as the advantage of being able to walk to university, the nearby transport links provide swift access to the city centre, and there is also a public MSCP car park across the road from Havannah House.
Prestige Student Living offers a full range of services including financial, tenancy and total facilities management, helpdesk and reception, sales and marketing, rent collection, lifecycle and asset management, energy and commercial tenancy management.
For more information about this new student accommodation in Glasgow, visit http://prestigestudentliving.com/glasgow-havannah-house